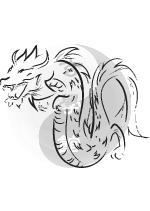 DOWNLOAD (CHINESE)
DOWNLOAD (ENGLISH)
2019 Dragon
Auspicious Stars: Yue De, Hong Luan
Inauspicious Stars: Si Fu, Xiao Hao, Ban An
For year 2019, our friends that belongs to Dragon horoscope this year has two auspicious stars finally. This is something to celebrate about because last year you have none. Let us start with the analysis of negative stars first.
This year for those negative stars, to take more time off to ensure that your family members' health are taken care of. Beside this, do not sit on matters and procrastinate hoping that everything will be resolved by itself. One of these days is none of these days. Remember that. On top of all this there incurred un-necessary expenditure this year.
However, with the auspicious stars help you should not need to fret much as the two auspicious stars would usually help to neutralise the impact of the negative side, consider this as a blessing in disguise. Oh, this year because Hong Luan star is with Dragon, our single friends might potentially meet their soulmate. ?
So to reduce the overall impact, maybe you might want to spend some money on body check-up for family members to answer the negative star issue that may bring might not be an bad idea for year 2019.
2019肖龍的運勢
吉星:月德,紅鸞
凶星:死符,小耗,扳鞍
 2019年肖龍的朋友們。今年總算是出頭天,因為跟往年比較,今年你得兩顆吉星庇佑至少比去年好的多吧?今年的凶星性質,要小心家裡人的健康多一些。除此之外出事方面要不要拖泥带水,凡事乾脆利落不要糾纏不清。所以今年來說破一點小財給家人做一些體檢也不錯。至於吉星部分,因為有吉星的庇佑,今年的凶星也影響不大。因為吉星部分能把凶星的力道化險為夷,除此之外單身的朋友們會有機會遇到異性哦。所以在此也不要對凶星的影響太過在意。記得把身心搞好也能度過快樂的2019年。