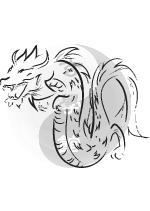 DOWNLOAD (CHINESE)
DOWNLOAD (ENGLISH)
2020 Dragon
Auspicious Stars:  San Tai, Guo Yin, Hua Gai
Inauspicious Stars: Wu Gui, Guan Fu, Pi Tou, Huang Fan
2020 our friends that belong to Dragon zodiac will be able to demonstrate their talent. For those working adults or business owners because of the positive energy from auspicious stars this year, most of your challenges should be resolved easily, remember to take charge and lead, there will be noblemen to assist you. For students, there should be not much issue when coming to studies and exams.
Of course, on the flip side you need to be wary of your figure and speech or else you will be held accountable for the things you did mention clearly. This could potentially lead to unnecessary lawsuits or stress.
2020 is the best time to refrain from mindless chattering to avoid gossip and spend more on developing your skillset to have a wonderful year ahead.
2020 肖龍的運勢
吉星:三台,國印,華蓋 
凶星:五鬼,官符,披頭,黃旛
2020 是善用吉星的力量把一切的是非拋在腦後,把自己才華和實力發揮到淋漓盡致的一年。
2020 年肖龍的朋友們,今年的吉星能讓你發揮自己的才華。做工或者做生意的朋友們,都有很多貴人相助下度過難過。在籍學生功課或者考試都沒有太多問題的一年。至於要注意的東西或者是事項,講話要清楚不要有機會讓別人借題發揮,嚴重的話能導致官非上身。所以不管己就別多管以免為自己製造不必要的麻煩。