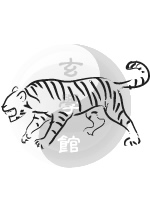 DOWNLOAD (CHINESE)
DOWNLOAD (ENGLISH)
2020 Tiger
Auspicious Stars: Tian Chu, Yi Ma
Inauspicious Stars: Di Ci, Gu Chen, Shang Men

2020 our Tiger friends who need to work abroad tend to enjoy their work trip more and get to experience good food. For those who do not work abroad you may find or feel that there's an urge for you to go travel.
However, before you go out to widen or enhance your personal experience through travel you might want to spend more time and take care of your elderly's health at home as they might tend to be sick more often. Also, be nice and learn how to communicate more effectively to prevent unnecessary squabble or verbal conflicts.
2020 is a good time to pick up culinary skill or travel abroad to enhance your personal life or experience.
2020肖虎的運勢:
吉星:天廚,譯馬
凶星:地雌,孤辰,喪門
2020可以下廚或者出外旅行整理自己的心情。
2020肖虎的朋友們,需要出遠門公幹除了又機會吃到好吃的東西。不然出外旅行的朋友也會有好的收穫哦。因為今年吉星主外能遇貴人又或者比較有機會出國旅行之外對吃也特別有興趣哦。今年要注意家人的健康於其是年長者更要多加注意。除此以往要對溝通能力多下功夫以免造成許多溝通上的誤會。