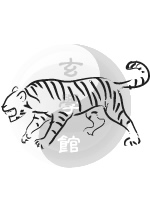 DOWNLOAD (CHINESE)
DOWNLOAD (ENGLISH)
2021 Tiger

Overall :
2021 our Tiger friends' luck is better than last year. As the auspicious stars are shining bright and enhance their luck in the area of noblemen, career and relationship. However, you must be a self-initiator and refrain yourself from procrastination. As the saying goes:" One of these days is none of these days" Don't let procrastination become a showstopper to your personal success and squander this year good luck.
Wealth :
This year you tend to miss an earning opportunity or may have un-necessary and/or ad-hoc expenditures. But all these could be mitigated if you can constantly tap on or leverage your personal network to make up for the opportunities lost. But remember to avoid high-risk investment.
 Career :
You might find it easier to meet your KPI as your superiors are appreciative of the hard work you have put in. But don't forget, don't let procrastination drag you down. Remember to keep up with the momentum and follow up your tasks promptly so as not to disappoint your superiors. Keep up with the momentum and leverage the positive energy of the auspicious stars.
Relationship :
It's a mixture of good and bad luck. As Hong Luan is responsible to enhance a relationship, Gu Chen enhances the opportunity for you to be solitary. Therefore, those who are single get attached easily while those who are couples may find it easier to get married. Since our Tiger friends maybe egocentric at times, for them to make their relationship success, they may need to show empathy and a listening ear.
Health Luck:
This year small illness may eg: cold or flu; that will come back to you intermittently. It's not a big deal, but it may cost you some money. But since wealth luck may need to spend unnecessarily. You could plan such expenditure on regular medical check-up to ensure your body is in pink of health or spend some money on health supplement to support your wellbeing.
2021 肖虎的運勢:

總運勢:
2021肖虎的朋友們今年的運勢而言,比往年好很多。貴人,事業和感情部分都有吉星的照顧,只不過自己需做事要多積極和凡事多要自己跟進不然會之前所計劃的事會前功盡棄。多加努力別錯過今年的好運。
財運:
財運狀況一般。因為會有錯過一些賺錢又或者破財的機會。不過因為有貴人的協助,善加利用人緣或者自己的人際網絡尋求機會好好的彌補財運的問題。因為會有破財問題,所以在這裡也奉勸肖虎的朋友避免高風險投資。
事業運:
事業方面,今年應該會有比較好的工作表現而的賞識又有貴人的扶持。大致上不會有太多問題。不過像我在總運裡所提起的,作工做事需要積極跟進不要拖泥帶水耽誤了時機。記得要;好好抓緊時機積極衝刺!
感情運:
今年的感情運就好壞參半,紅鸞有助感情運,孤辰顧名思義比較容易獨自一人。對單身人士而言,有望脫單。而在熱戀中的朋友們也有機會結婚。不過因為肖虎一般的性格骄纵所以要自我提醒自己多為另一半著想來經營好一段感情。
健康運:
今年的健康狀況要不是有吉星的協助應該會不堪設想。幸好也是一些小病纏身不至於會有太多問題。所以既然今年會有機會破財。倒不如把花錢的機會用在身體檢查又或者購買一些保健產品維護自己的健康好讓你在牛年裡過的健康和充實。