《赐子千金,不如授子一艺;授子一艺,不如赐子好名》
You could bestow your child with gold, but it would be even better to teach your child a skill, with a skill on hand why not provide the child a good name instead?  This is a rough meaning of the above old Chinese statement.
Ancient Chinese place a lot of weightage in Chinese name because if you haven't realize everything begins with a name, without a name, we were not be unable to address you or identify who you are. So you see, if sound is a form of energy and vibes. You really want a good and positive name to begin with.
As such this is why the Chinese takes Chinese name very seriously. However Chinese name itself has a lot school of thoughts and different masters have different preferences or methods in Singapore Feng Shui we took pains to combine various methodologies and school of thoughts into our Chinese name selection services. So that you can be assured that your child has a good name to begin with the life ahead of them.
Some of the common things our customers asked us before they engage our services:
What are you charges?
What are the things you required from us?
So how would my child name be selected?
How many names can I get?
What is the rationale in deriving this Chinese name?
I hope the below-mentioned write-out can answer our future potential customers' queries:
At CM Centre, we are transparent with our charges. All the pricings for our various services are listed in our website. For instance our Chinese Name Selection services. Prices are reasonable priced at $188. Do visit our services page for the comprehensive range of services we provide.
What are the things you required from us?
How would my child name be selected?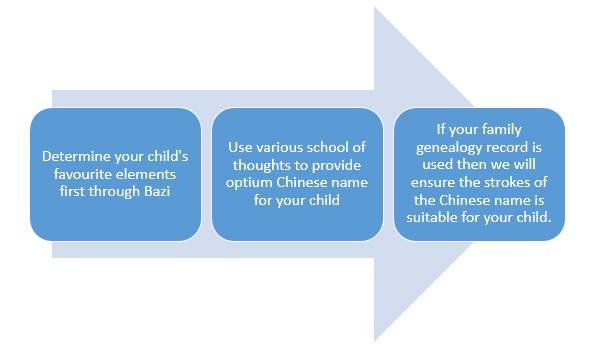 How many names can I get?
As all names are handpicked and not computer generated. We will only provide only with 3 names with every engagement. Once you have selected the list of names, we will provide you a software copy of your child's destiny chart and a detailed explanation of your child's Chinese name.
What is the rationale in deriving this Chinese name?
We have to ensure that your child's name pronunciation and Chinese character is not the same as your family's member, this is a taboo in Chinese name selection.
We will match your child's favourite Bazi element in your child's name plus different school of thoughts to come out with a good Chinese name.
If you have other enquiries do mail us at: info@cmcentre.sg