《赐子千金,不如授子一艺;授子一艺,不如赐子好名》
Rather than bestowing a child with riches, why not impart a skill. Will skills on hand, why not give him a good name instead. This is the meaning to the Chinese saying above.
Ancient Chinese places great importance in the Chinese name. Because everything starts with a name. Without one, nobody would be able to address or identify you. If Sound is a form of energy and vibes, wouldn't you want a positive name to begin with?
This is why the Chinese takes this very seriously and believe that with the auspicious name, it will bring positive influences to your child and his/her life ahead.
Baby Naming Singapore
Congratulations! You are reading this because you are probably looking for a Feng Shui master to help you to choose the perfect name for your new-born baby. Nothing brings more joy than seeing your new born for the first time. We sincerely congratulate you.
If you are planning for an auspicious day for the delivery of a child, we can help in an auspicious date selection.
There are several preferred different methods amongst Feng Shui practitioners to help you choose the perfect Chinese name for your child. Each with its own merits.
At CM Centre, we took pains to combine various methodologies and school of thoughts into our Chinese name selection services. To ensure we leave no stone unturned in our recommendations. You can be assured that your child will have a good name to begin their lives ahead.
Chinese naming service details
Here's what you can expect for our Chinese Naming Services:
Pricing
At CM Centre, we are transparent with our charges. All the pricings for our various services are listed in our website. For instance our Chinese Name Selection services. Prices are reasonable priced at $188. Do visit our services page for the comprehensive range of services we provide.
What is required?
To aid in name selection, we would require the following items:
Date and Time of Birth recorded in your Child's birth certificate
List of Chinese names of your close family members
Family Genealogy (if available and required)
How would the name be selected?
Firstly, we would determine your child's favorite element through a Bazi Analysis. Then with that, we will analyze with various methods and school of thoughts. Lastly, we would take into account and ensure that the strokes of the Chinese name is suitable for your child.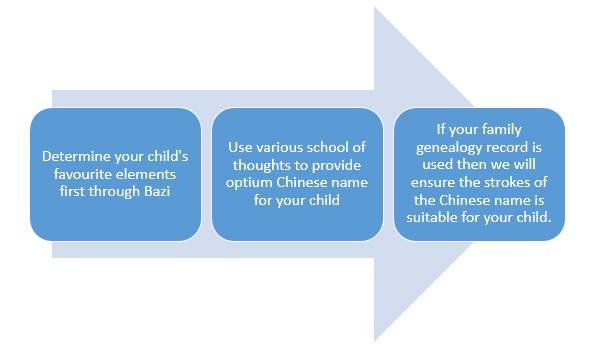 How many names would be recommended?
All names are handpicked and not computer generated. We will provide 3 names with every engagement. Once you have selected the list of names, we will provide you a software copy of your child's Bazi chart and a detailed explanation of your child's Chinese name.
What is the rationale in deriving this Chinese name?
We have to ensure that your child's name pronunciation and Chinese character is not the same as your family's member. This is a taboo in Chinese name selection.
We will match your child's favourite Bazi element in your child's name plus different school of thoughts to come out with a good Chinese name.
Baby Naming Booking
We look forward to serving you. Kindly fill up the form below and we will be in touch.