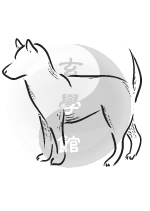 DOWNLOAD (CHINESE)
DOWNLOAD (ENGLISH)
2019 Dog
Auspicious Stars: Tian Xi
Inauspicious Stars: Huang Fan, Gua Su, Bing Fu, Mu Yue
For the year of 2019, our friends that belongs to the Dog Chinese horoscope this year has only one auspicious star. While there four negative stars this year. Just like our Rooster friends. Like I have mentioned before, we can learn to amplified our focus so that on the positive things so that we don't have time to think about the negative stuff.
So what does year 2019 holds? This year the negative influence from the negative stars may affect you and your family members health. Apart on health issues, you need to be more prudent on your spending. Since spending money is inevitable, you can think of going for regular check up for the how family to keep health in check.
While these are nagging problems, but the positive star Tian Xi has the ability to deliver good news to you. Therefore, like I mentioned earlier, amplify the focus on happiness. (Tian Xi) Smile and enjoy the moments. 2019 can be a very happy year for you as well.
2019肖狗的運勢
吉星:天喜
凶星:黃旛,寡宿,病符,募越

2019肖狗的朋友們,和肖雞的朋友一樣只有一顆吉星。凶星繁多。之前我們有提到,凡是凶星多的生肖如蛇或者羊來說。我們應該學習把注意力放在吉星的性質上。好好了解凶星的性質調整自己心理建設來面對挑戰,就不會有太多問題了。今年的凶星很接近。大致上要照顧好自己和家人的健康。除此之外還要把錢看好不要亂花。吉星方面因為是天喜星。凶星的影響是在所難免了。不過因為有天喜的關照還是會有喜事迎面而來。所以像我所說,注意力在吉星上面。快樂(天喜)多些,笑容多一點。2019年還是可以過得很快樂哦。