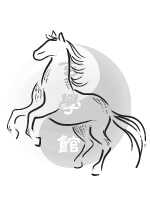 DOWNLOAD (CHINESE)
DOWNLOAD (ENGLISH)
2019 Horse
Auspicious Stars: Long De, Ziwei, Lu Xu, Di Jie
Inauspicious Stars: Po Bai, Tian E
For the year of 2019, our friend that belongs to the Horse is definitely in luck. This year you are one of the Zodiac that has the most positive stars than other horoscopes, you also have the least negative stars amongst other Chinese horoscopes. So let us see what is installed for you in 2019 ahead.
Let us touch on the negative stars, this year there might be some ups and down along the year but the word of advice is to stay calm and positive to confront the changes. I believe there won't be too much of an issue. Apart from this, it is much encourage that you should take things easy because dynamism is something beyond your control.
As for the positive stars, in terms of career, you will have good opportunity as there is a career enhancement star to assist. Apart from that, good noblemen stars are alongside to guide your way as well. Therefore you should leverage on the positive energy and make a quick dash ahead and achieve more in 2019.
Although there is unpredictability for you this year. But with all the positive stars alongside to assist you plus a positive mind-set everything will be fine for you in year 2019.
2019肖馬的運勢
吉星:龍德,紫微,祿勳,地解
凶星:爆敗,天厄
2019肖馬的朋友們。今年算是較好運的一年,吉星多,凶星少。凶星的性質而言,起落不定而且謀士難成,做事凡事三思而後行。吉星而言,事業有提升的機會,也有貴人多處協助您。所以要有了吉星的照耀,做事往往你事半功倍。所以不要浪費上天的恩賜,要記得借用吉星的能量在今年好好衝刺。雖然凶星帶來的不定,不過有那麼多的吉星相助,今年的凶星也沒有太多的影響。所以要抱著一個平常心,就不被起伏不定的星系受影響而且還可以好好度過2019年。