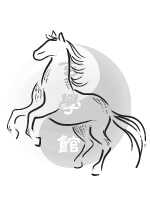 DOWNLOAD (CHINESE)
DOWNLOAD (ENGLISH)
2021 Horse
Overall :
2021 our horse friends can enjoy better luck than last year. The main highlight this year is to take relationship matters seriously, do not give in to a fortuitous relationship that jeopardises marriage or current relationship. You will have the tendency to spend more this year as well. Be a smart consumer and spend within means.
Wealth :
As we explained earlier, sure there's a tendency to spend more, but it doesn't mean your wealth luck is totally out. Apart from been a smart consumer and practice financial prudence to mitigate the negative energy that makes you spend more. You should learn how to earn a side income and learn how to grow your financial portfolio to grow your assets.
 Career :
This year your superior will notice recognize the effort you have placed in which is good news. But at the same time, you will attract gossips or drawn into conflicts. To alleviate such unpleasantries, you could actually spend more time with your colleagues on lunch or dinner to exchange pointers overwork to iron out the differences and excel as a team.
Relationship :
This year can be a wonderful and fruitful year in a relationship, but you must abstain from a causal relationship that may lead to extramarital affairs. For the single guys and girls out there, you may be spoil by the options you have out there, but remember to be selective to save you from future headaches in a relationship.
Health :
While auspicious shines bright for you. But you may not be in pink of health this year. Therefore, the essential steps to step up your well being is to ensure a balanced diet, learn how to relax, enjoy quality sleep and avoid staying up late with more workouts to keep yourself sharp and focus.
2021 肖馬的運勢

總運勢:
2021肖馬的朋友們,今年的運勢比往年更好。今年感情方面要檢點,不要因為一時之快而後悔不堪。除此之外,會有一些小破財,所以多餘消是避免不了,所以要做個精打細算的消費者才行。大致上因為有吉星的庇佑一切都能大事化小,小事化無。
財運:
今年的財運還算是不錯,不過應該學習理財或者做一些穩定的小投資好讓自己會錢生錢的技巧。除此之外,記得自己要有制止能力不然看起來不起眼的花費累積起來會是個很客觀的數目。
事業運:
今年有機會被老闆賞識和表現的機會。所以你應該避免在工作上的不必要糾紛、爭執和閒話是非。於其花費時間吸引負能量,我建議您不如利用跟同事聚餐交換工作心得把工作氣氛搞得更融洽一些好讓你的事業更上一層樓。
感情運:
今年可以讓自己的感情精彩和恩愛。不過自己需在處理感情,多加檢點不要惹上不必要的麻煩又而把美好的一段婚姻更搞雜就未免太可惜。未婚者異性緣佳,不過自己要多加篩選。
健康運:
今年健康雖然有吉星的照耀,不過也會多病纏身。所以自己應該多放鬆自己心情,要注意自己的健康也無非那幾樣重點。身心的健康就要注意飲食習慣,放鬆方式可以採取多做運動和準時睡覺不要熬夜。