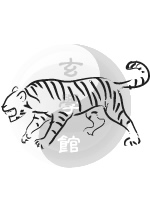 DOWNLOAD (CHINESE)
DOWNLOAD (ENGLISH)
Outlook for Tiger Chinese Zodiac in Year 2022
Overall :
This is year is the year of the Tiger, and because it is your Tai Sui year, you will most likely feel the energy of Jupiter. You are probably bogged down by things beyond your control, and because of the difficulties you face, you may lose patience over the smallest thing. So, stay grounded and calm before you make any major decisions and take care of your health as well to overcome your challenges in 2022.
Tiger Wealth & Fortune 2022
While there is no catastrophic financial crisis for you this year, you should be financially prudent because there may be unexpected expenses. To reduce risk, you should avoid high-risk investments and instead invest more money in yourself to learn new skills.
Tiger Career & Job Prospects 2022 
Because this is your Tai Sui year, you will face obstacles and challenges at work. Such difficulties can be overcome with careful planning and analysis, as well as some initiative and hard work. As explained in wealth luck, you should put more effort into improving your skill set to increase your employability.
Tiger Relationship & Marriage 2022
You need to stay grounded and humble to manage your relationship. The effects of negative stars can sometimes lead to mood swings. Therefore, to reduce the impact of your mood swings you should stay grounded and calm. Also, only if you are humbly open, it will be more approachable for your other half to open up and share their feelings with you and this will help reduce misunderstanding.
Tiger Health 2022
Because you may experience more health issues this year, you may find yourself visiting the doctor more frequently. However, take this opportunity to go for regular checkups instead, manage your emotions, be more positive, and avoid dangerous sports this year, and you will be fine.
Feng Shui 2022
The shift in Feng Shui energies is an annual affair. And because of this shift, every sector in the house that is receiving the energy will be different every year. Find out more our analysis on Feng Shui in 2022.
Year of the Tiger 2022 Horoscope
Find out how 2022 will unfold for you with our Annual forecast and predictions for your Chinese Zodiac Animal Sign in 2022.
2022 肖虎的運勢:
幸運顏色:米色、黃、金
幸運號碼:7, 4, 1, 6

總運勢:
2022年是肖虎朋友們的本命年,俗稱犯太歲。整體來說,今年會為很多瑣碎的小事而煩惱,做事也比較容易失去耐心,不管大小事務都會覺得煩躁。不過要記得事無好壞之分,每件事都是一次學習、突破自我的機會。。所以,建議您凡事多分析和思考如何淡然解決挑戰。今年,需要多加注意身體健康,就能度過美好的一年。
財運:

由於今年沒有破財星,所以財運方面不至於破財,但是今年會為錢而煩惱。所以,以客觀而言,今年要避免投機活動,不然會煩上加煩。建議您多花一些時間規劃自己的財務,未雨綢繆,以減低不必要的財務煩惱。
事業運:

事業方面,因為犯太歲的關係,會出現一些不必要的阻礙。當然,前面也有提到,這些阻礙只要多加分析、展開適當的行動、保持心平氣和,就能把這些工作上的問題迎刃而解。另外,建議您多多利用業餘時間學習,為自己增值。
感情運:

一般來說,肖虎的朋友性格上可能比較骄纵,所以在今年要常常自我提醒,除了放下身段外,若可以控制自己的情緒,就能避免讓自己的心情煩躁不安。若你能控制自己的情緒,就有機會傾聽對方表達的意見,這樣才能有效減少不必要的矛盾。
健康運:
今年的健康狀況比較反复,不是小病纏身,就是需要頻頻跟醫生打交道。整體來說,只要有按時做身體檢查、好好控制自己的情緒,並時刻保持正面思考,大致上不會有太多問題。另外,溫馨提醒您今年不要做危險運動,同時常常提醒自己上述的動作。